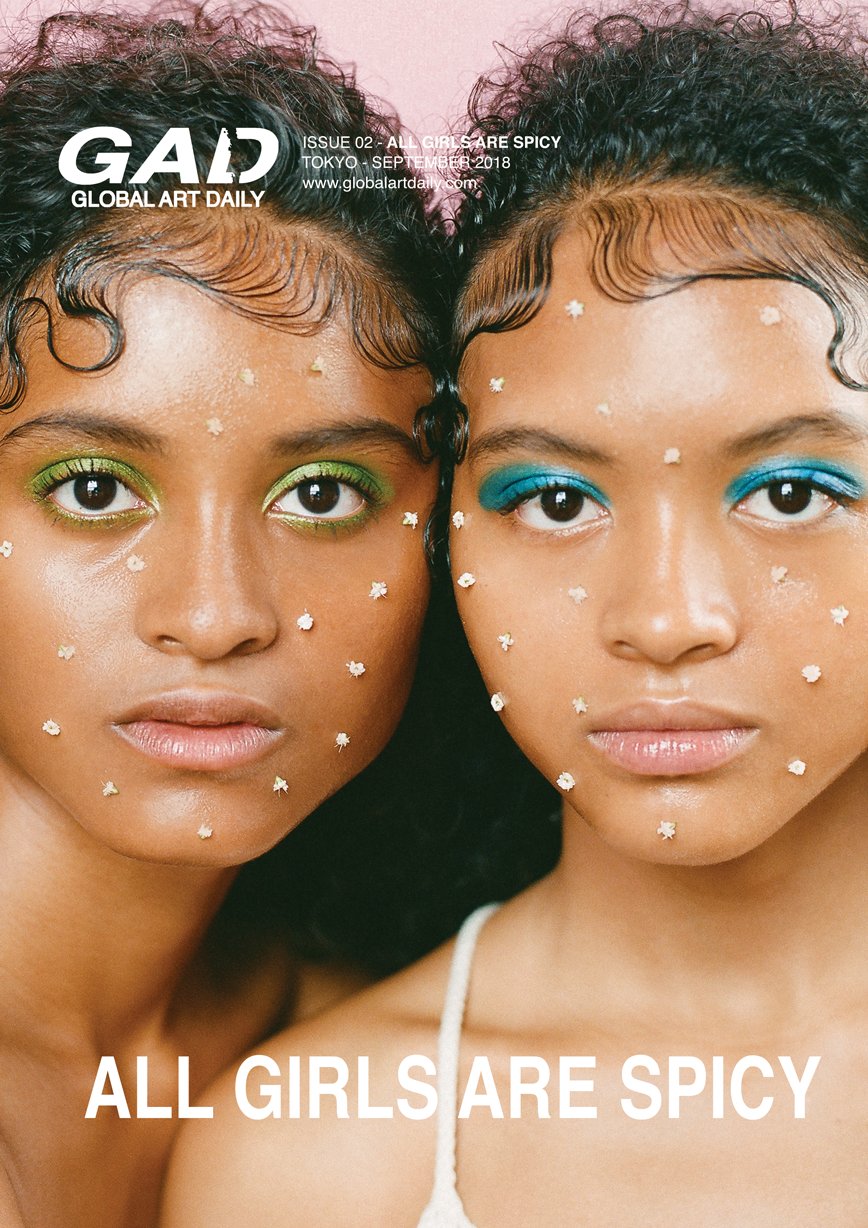 Global Art Daily (GAD) Magazine
ISSUE 02
Fall 2018
Release date: September 17th, 2018
'All Girls Are Spicy'
110 pages
A4 (400g)
Bilingual: English + Japanese
Printed in Japan
International shipping: US: $8 flat rate via tracked EMS Japan Post mail (arrives in 10 business days)
International shipping: UAE + Gulf: $12 flat rate via tracked DHL Express mail (arrives in 5 business days)
International shipping: South East Asia: $12 flat rate via tracked DHL Express mail (arrives in 5 business days)
International shipping: Europe : $8 flat rate via tracked EMS Japan Post mail (arrives in 10 business days)
International shipping: Everywhere else : $8 flat rate via tracked EMS Japan Post mail (arrives in 10-20 business days, depending on locations)
Domestic shipping: Japan: $3 flat rate (arrives in 3 business days)
For this second issue of Global Art Daily (GAD) Magazine, we focused on women artists. Instead of taking one-sided approach to feminism, we decided to look more globally and pinpoint what it means to be a creative woman, in 2018, across four continents: from Oakland to Tokyo, passing through Buenos Aires, Berlin, Dubai and Manila. In this issue, SOPHIE ARNI and EV ZVEREV ask SHIRIN NESHAT about her thoughts on fame, success, and being a woman artist given her latest feature film 'Looking for Umm Kulthum'. NAITING SO MO presents her five Spice Girls of Buenos Aires: KEITYMOON, CELINA PLA, JESSICA KESSEL, GALAXIA EXTRAVAGANCIA and DJ $USTANCIA. In New York City, BLAIR CANNON directs American Beauty, a beauty story shot by HEATHER HAZZAN with nine girls redefining the new Asian-American face. In Berlin, CHARLOTTE DE BEKKER opens up about her story from the Arabian Gulf to the Berlin underground. We asked MICHELE LAMY and MARIA KOCH what artworks they would like to own. ALI AL SHEHABI shoots TOQA in Tokyo, for our fashion editorial. FANFAN from COLORNAILS and MADDY from ISLA talk setting up a nail salon and color trends for Fall 2018, and much, much more in 110 pages.
Contributors: Achrakat El Fidori, Ev Zverev, Blair Cannon, Christopher Benton, Naiting So Mo, Julia Saubier, GK
Cover shot by HEATHER HAZZAN
Interviews with SHIRIN NESHAT, MICHELE LAMY, MARIA KOCH and FARAH AL QASIMI and much more on 110 pages.